Laser Hair Removal
The Spectra Pulse System is the most advanced FDA approved Laser Technology for the Removal of unwanted Facial and Body hair today. The Laser System uses high Intensity Pulse Light  (IPL) to damage the hair follicle components responsible for hair growth.  With this safe and effective system of Hair Removal, you will experience little to no patient down time, after your same day treatment. The number of treatments required vary from patient to patient, based on the Cycles of Hair ( Catogen, Anagen and Talegen ), Growth patterns and Ethnicity, 6 to 12 sessions are not uncommon and can normally be expected in order to achieve the desired result.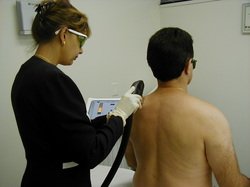 Procedures and Clinical Pictures
Hair Removal is an attractive option for people suffering from unwanted hair.  It is a fast, safe and affordable way to obtain Hair Removal.  The Spectra Pulse designed to treat virtually any area of your body.  Unlike waxing and electrolysis, the Spectra Pulse technique is hassle-free.
Schedule an appointment with one of our professionals today!
We will work with you and find a time to accommodate your treatment