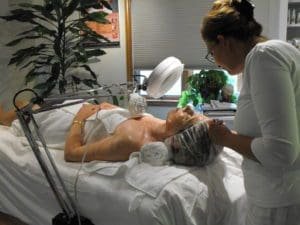 Juventus Medical Laser Skin Care                 Clinic in Northville, MI
Juventus Inc. is a unique Medical Spa in Northville, Michigan, that provides Non-invasive skin treatments. We specialize in ' Skin Rejuvenation ', as well as ' Corrective Treatments ' , for a variety of skin issues. With more than 30 years of experience, our goal is to keep you looking and feeling your Best !
At Juventus, your skin concerns are our concerns. A thorough Skin Analysis is performed at your initial consultation to provide you with a customized treatment and skincare regimen that suits your particular needs. Contact us today for your Complimentary  Consultation and Skin Analysis at 248-295-7358.
Clinical Treatments
We specialize and treat all non-invasive procedures with our Specialty Skin Products. We provide services such as Clinical Chemical Peels, Micro-Dermabrasions, JuveProbe treatment for Minor Skin Irregularities, Medilift Dynamic Wave therapy ( the non-surgical facelift ), Lipotron Radio Frequency therapy ( the non-surgical liposuction ), and Intense Pulse Light [IPL] Laser Treatments such as Laser Hair Removal, Photo Rejuvenation, Sun Damage, Melasma and Vascular (vein) treatments, Micro-Derma Needling and Permanent Makeup. 
About Us
Our mission is ' to exceed your expectations ' by providing you with the latest in technology and service for the treatment of your face and body. Established in 2001, the Latin word " Juventus " directly translated, means " the age of youth ". 1996 brought incredible breakthroughs in the Skin Care world, bringing Laser Technology to the foreground and fostering a bridge between the Spa industry and Restorative, Corrective Skin Care.
      "A very exciting time in my life's work, as now I can deal with skin issues that I couldn't treat before" 
Juventus Founder and Owner
Juventus
is honored to have
Christine Morrison, MD
 Juventus Medical Director
Schedule an appointment with one of our professionals today!
We will work with you and find a time to accommodate your treatment